March 16-22, 2014
Arrival on Sunday, 5 day Workshop, Depart Saturday
Wouterina (Riana) de Raad
This workshop focuses on mosaic covered concrete statues in the
tradition of American outdoor folkart.


| | |
| --- | --- |
| | I will be teaching my own techniques, formulas, and knowledge of working in this media since 1987. |
This workshop is ideal for any one, but in particular for mosaic artists who are tired
of working on flat surfaces and commercial 3d objects.

Gardeners would also love this workshop, because they will learn how to create a sculpture,
planter, birdbath, etc, for that special place in their yard.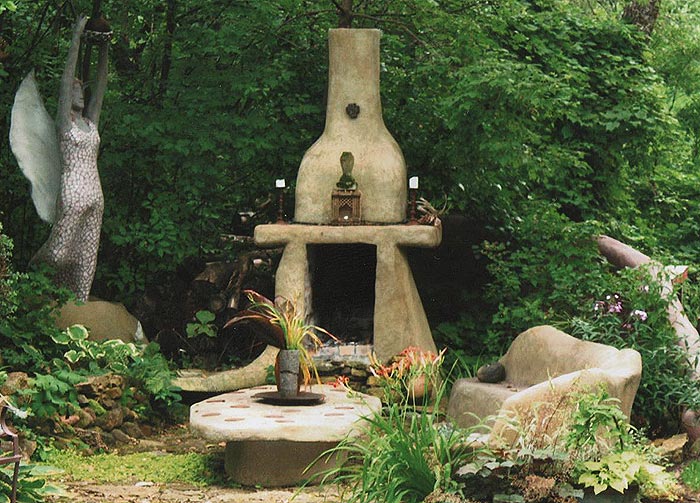 These concrete sculptures can be outside all year round, including Northern climates, providing they were tiled with an adhesive and materials that can withstand sub-zero temperatures.

With my technique, aside from lifesize sculptures, you will also learn how to create concrete environments with benches, fireplaces, walls and arches that can light up, without having to do any welding.

Participants will be creating a multi-layered form out of metal lathe, that will be covered with a thin layer of cement, after which you will learn the basic skills of tiling, using various materials for all climates, including recycled and found objects.

You will also learn how to grout, use pigments and how to apply an adobe-style finish.

Also included are my own formulas for cementing, grouting and the adobe finish, how and when to use reinforcements and in which order to proceed on a sculpture. There will also be demonstrations during the farious steps of this process.

I highly recommend taking this workshop at Hacienda Mosaico.

It is a beautiful, tropical, artful and inspiring mosaic environment, with wonderful rooms, incredible food made from fresh produce purchased at the market daily, Margarita's, poolside dining and large in and outdoor studio space over looking the tropical gardens.

I would also like to take you to some of my favorite spots in and around PV, its treasures and pleasures!

Dancing Sunday evenings on the zocolo with the locals, the performances and art while strolling the boardwalk, the amazing restaurants, galleries and markets....always accompanied by the sounds of Mexican music, the scent of their food and that wonderful culture.

I have been teaching in PV for over 10 years now, and never had a bad experience, always felt safe wherever I went, and find the people very kind and helpful.

So, come and join us at the Hacienda Mosaico, which is located in a wonderful mexican, family neighborhood, 4 blocks from the ocean, perfect for a walk on the beach before breakfast.

Hope to see you there, Wouterina

Please visit my website for more details, www.concretemosaicsculpture.com go to faqs for most frequent asked questions, to see students work in Puerto Vallarta, go to work in progress, to see the 100 plus sculptures in my gardens go to Galleries, need to know what to bring? go to travel w/shop information. any more questions, please contact me at or call [715] 273 5959.

Sam and Stella on students bench.

2010 students not only made their own mosaic sculpture to take home,
this bench was made for the Hacienda.

Workshop cost:
Price: $1,500 includes 5 days of instruction, 6 nights of lodging, breakfast and lunch on workshop days.
Based on double occupancy.

Trip insurance is strongly advised.
Travel Insurance 101: How to Protect Your Vacation
This "plain language" tutorial will explain travel insurance so you can easily find the right plan.
NOTE:
Save your tool receipts in case you bought the wrong tools, and please start thinking about something to make that will fit in our suitecase, go to my website and check the planters, under Galleries, or go to student work in progress.

For information and reservations
contact Sam @