April 23-29, 2017
Arrive Sunday, 5 day Workshop, Depart Saturday
Lisa JonesMoore
Vision & Touch-Dynamic Surfaces in Mixed Media and Wax

Join me for "fun in the sun" and a fabulous art-making adventure in mixed media and warm wax, at the lovely Hacienda Mosaico artist retreat! There's still SPACE AVAILABLE in this workshop!

Cost: NEW class/lodging fee for 6 nights and 5 days of class time is $1600 (*a $200 discount!).
Textures! Colors! Patterns and Shapes! These elements are everywhere, especially in the magnificent country of Mexico. Discover how to combine these rich "ingredients" to create beautiful works of art. Mexico is the land of intriguing old walls, windows, doors, signage and sidewalks. Crumbling, decaying flaking and rusting surfaces abound, combined with vibrant layers of colors and patterns.
Utilizing "photo-strolls", sketching, mixed media and warm encaustic wax, learn how to interpret these dynamic surfaces that surround you. As an option, you may bring ideas/sketches/photos from home and favorite places that inspire you. We will employ "vision and touch" to create small "tacTILE" sample boards, using at least a dozen (or more!) mixed media techniques. For your final project, you may either assemble your beautiful "tacTILES" onto a larger substrate, or continue to explore the wonderful surfaces that inspire you.

I would love to share my passion for Mexico and this creative adventure with you! We will be staying the the fabulous Hacienda Mosaico, an oasis of tropical beauty, original art and vibrant color. It is truly and "art sanctuary". Sandra ("Sam") Leonard has been hosting successful art retreats there for 12+ years.
You will learn the following techniques:

Using your camera (or cell phone camera) and sketchbook to document surfaces.
Warm encaustic wax (encaustic "basics"), scribing into wax, wax accretion, "scraping back" layers, monoprinting with warm wax.
Mixed media techniques (all compatible with wax): graphite/pigment/oil pastel "rubs", rusting surfaces, impressions with found objects, embedding small found objects, use of alcohol and water-based inks, mark-making.
Making texture using the following: wax, molding paste or wall spackle, crackle paste, lace, cheesecloth, sand, eggshells, natural elements and more.
Drawing and cutting your own stencils for "pattern and shape", how to use with all media.
Tool-making (chopstick texture-makers).
Shellac and wood glue "burns" and more!
The cost of this 5-day workshop, 6 nights of lodging (based on double occupancy),
breakfasts and lunches is *$1600.
Airfare, airport transfers and dinners are not included.

To see more of Lisa's work and learn about her art practice, please visit: www.jonesmoorestudioart.com

Contact me for more information:


or contact Sam Leonard at Hacienda Mosaico to register:

or call her U.S. cell number: 908-891-2057.

ALL LEVELS WELCOME! DON'T MISS OUT ON THIS "DYNAMIC" IMMERSION IN MIXED MEDIA AND WAX!
Trip insurance is strongly advised.
Travel Insurance 101: How to Protect Your Vacation
This "plain language" tutorial will explain travel insurance so you can easily find the right plan.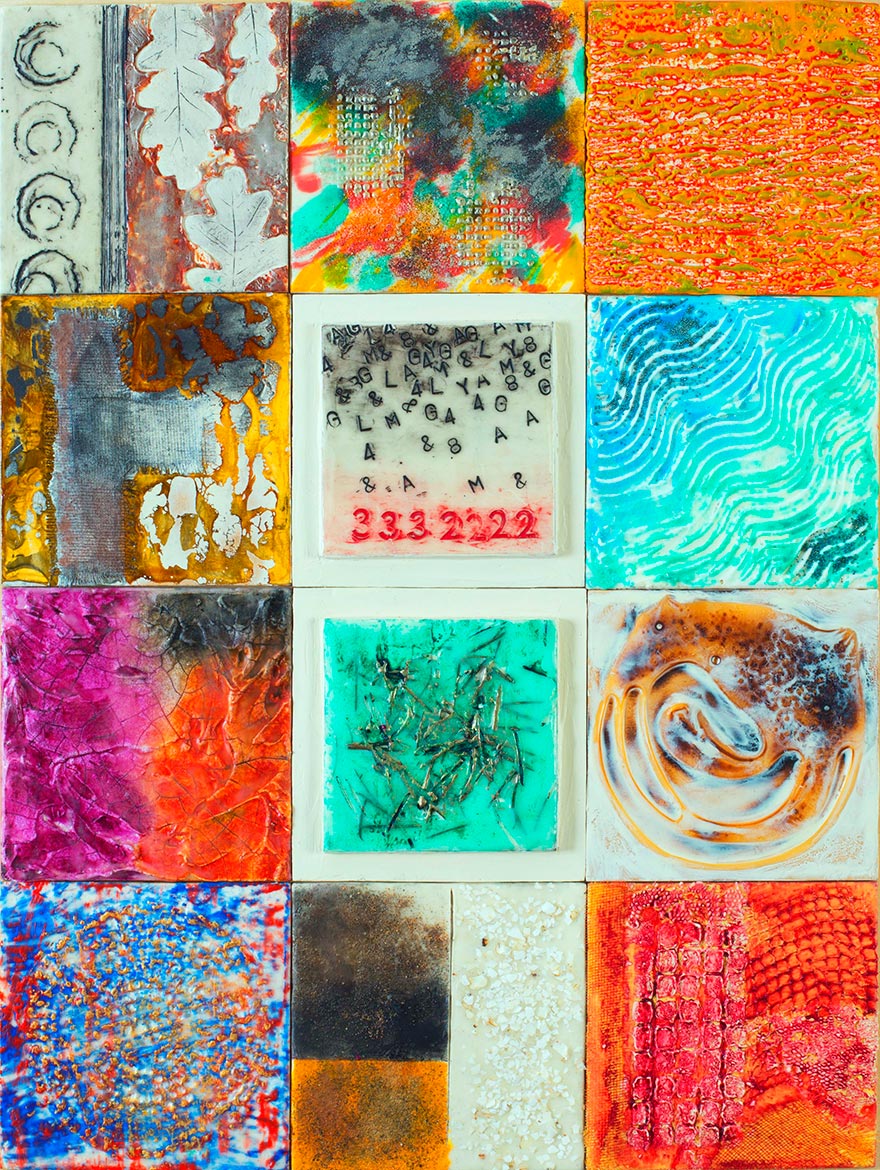 Mixed media & wax "tacTILE" mosaic piece, by Lisa JonesMoore
| | |
| --- | --- |
| | |
| Wax, rust, ink & shellac, by Lisa JonesMoore | Wax over spackle paste texture, with encaustic monoprint, by Lisa JonesMoore |
| | |
| Wax, mixed media, dirt, leaves and torch marks, student "tacTILE" mosaic by Tracy Felix | Wax, ink, oil pastel with "scribed" image, student work |
For information about accommodations
contact Sam @