February 24-March 2, 2019
Arrival: Sunday, Workshops: Monday – Friday, Departure: Saturday
Carol Shelkin
CREATE YOUR OWN MOSAIC WORKSHOP!
This is a unique workshop for all skill levels!
This is Carol's 9th year at Hacienda Mosaico and looking forward to teaching in this inspirational, spacious, educational and art-filled atmosphere again.

All skill levels are invited from Beginner to Advance!

THE WORKSHOP ENCOURAGES YOU TO EXPERIENCE AND USE STAINED GLASS, TEMPERED GLASS, SMALTI, TILES, AIR-DRY CLAY OR ANY MOSAIC MATERIAL OF YOUR CHOOSING IN A REALISTIC OR ABSTRACT DESIGN.

There will be an optional Powerpoint Presentation on REALISM in staind glass including portrature.

You will be guided through the process of creating a mosaic (or two) of your choosing using invaluable professional artist tricks and techniques that will work the best for your projects.
Mosaic expectance is welcomed but not necessary in this workshop.
All suggested materials will be listed after registration.
| | |
| --- | --- |
| | |
| Artwork: Karma Duff | |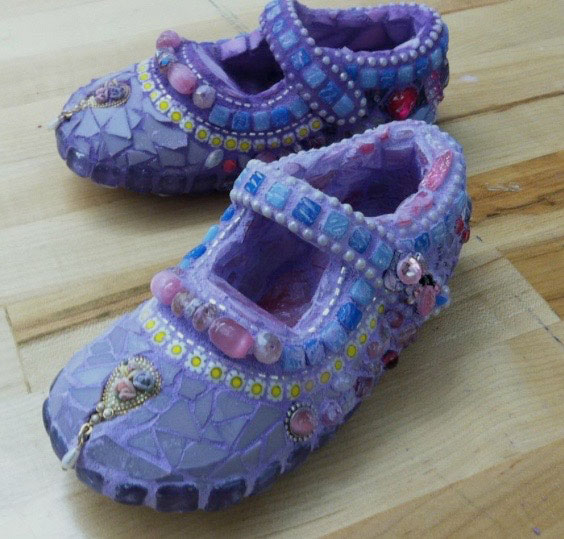 SOME CREATIVE MOSAIC OPTIONS COULD INCLUDE:
Option 1: Mosaic in a painterly fashion and understanding realism in mosaic art with stained glass or tiles. (Material list will be sent)
Option 2: Beginners Tempered Glass: Creating an abstract design with the layering technique using mementos and other embellishments like: clay pieces, jewelry, stained glass foil papers, glitter etc. (material list will be sent)
Option 3: BRING WHAT YOU WANT! (Carol will help you with material options if needed.)
| | |
| --- | --- |
| | |
| Hamsa Artwork: Joan Schwartz | Student Work: Beginners Tempered Glass |
There will be lessons on shading, color, balance, composition and understanding how to apply these materials and techniques to any mosaic style.

Mosaic is unique to all students and my goal is to help each student in a group setting and ONE-TO-ONE in an inspired environment to develop and find their own styles and creative voice. There will be professional artist tricks taught. Other subjects will include: composition, presenting artwork to gallery owners, exhibitions, building a resume, pricing, shipping, framing – or not framing, photographing your mosaic art and much more. If you wish to create a portrait mosaic, you must submit a photograph for approval to instructor in advance so materials can be sourced. Send after registration.

Bring questions! We will have time for lots of one-to-one instruction and conversation.
THE LESSONS TAUGHT AND INSTRUCTION GIVEN WILL LAST THE STUDENT LONG AFTER THE CLASS IS OVER. REMEMBER, NO QUESTION WILL BE LEFT UNANSWERED.

Whether you want to try something new, JUMP-START YOUR CREATIVE SIDE or take your work to the next level, it will be a most inspiring week full of art in the heart of a most creative space!
Artwork: Dawn Mendelson
Stained glass, Gold smalti, beads
Students bring:

Any materials, substrates & tools to work with.
Sturdy bag to transport mosaic home.
For Realism: One of each: Pen, pencil, colored pencil (blue, red or green) and 10 toothpicks 2 regular Sharpie Magic Markers (black, regular & fine point)
Safety Glasses.
Smart Phone or camera – used as a tool.
Push tool: toothpicks.
Small table top Lamp: Ott Lamp.



Flower Artwork: Carol Shelkin
ABOUT THE INSTRUCTOR:
Carol Shelkin is an art teacher and award winning, working artist, with her studios just outside of Philadelphia having attended Pennsylvania Academy of the Fine Arts, USA and Studio Arte Del Mosaico: Mosaic Art School, Ravenna, Italy.

She has been invited to be a Presenter and Instructor at the Mosaic Association of Australia and New Zealand (MAANZ) Summit, the Society of American Mosaic Artist's' yearly conference, Clay Studio, Philadelphia and Touchstone Center for Crafts, PA. She has shown her work both nationally and internationally in juried shows and galleries with her work being found in public installations and private collections. Carol is published in several books and offers WORKSHOPS and founder of WORLDWIDE MOSAIC ART RETREATS in Costa Rica, Canada, Spain, Morocco, France, UK, Australia and throughout the United States.

As President of the Mosaic Society of Philadelphia (MSoP), an active and proud member of the Society of American Mosaic Artists and a Juried Member of the Pennsylvania Guild of Craftsmen, Carol has been influential in raising knowledge and awareness of mosaic art worldwide.
Carol Shelkin Mosaics
www.carolshelkinmosaics.com
Facebook: Carol Shelkin Mosaics
Twitter: Carol Shelkin Mosaics
Instagram: Carol Shelkin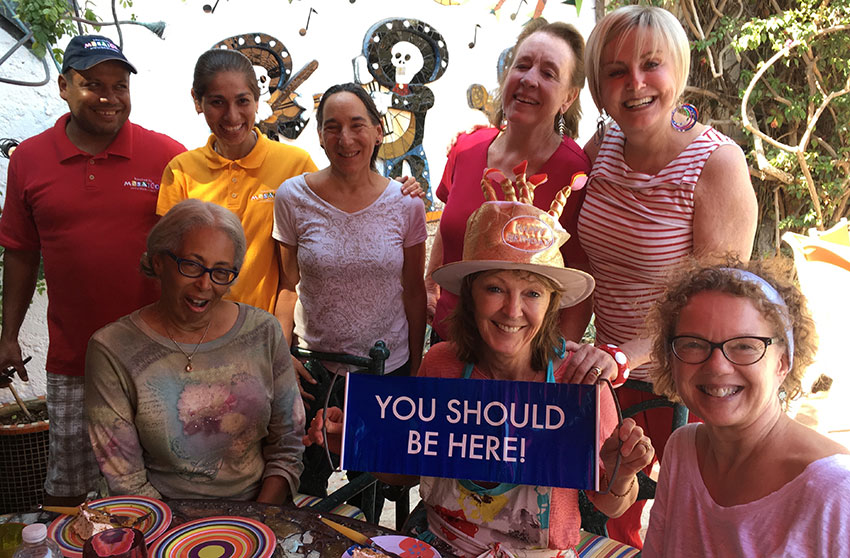 Summary:
Retreat Price: $2,100.00 (based on double occupancy).
Lodging: 6 nights & 7 days (unless you stay two weeks)
Mosaic Art Instruction: 5 days (unless you come for two WEEKS, then 10 DAYS of instruction is offered.)
Unlimited Open Studio: 24/7.
Two Optional trips to Sayulita & Wednesday Art Walk Downtown Puerto Vallarta
Meals Included by the Hacienda's Personal chef: Sunday evening Welcome Reception, 6 full breakfasts & 5 lunches (more like dinner) served poolside in a tropical setting and a Saturday departure breakfast. (Double this for those staying two weeks.)
Students are responsible to bring their own tools and Supplies. Carol will contact you for a helpful material list and also packing instructions will be provided after registration.
Free time: Anytime! The beach is just a short walk away.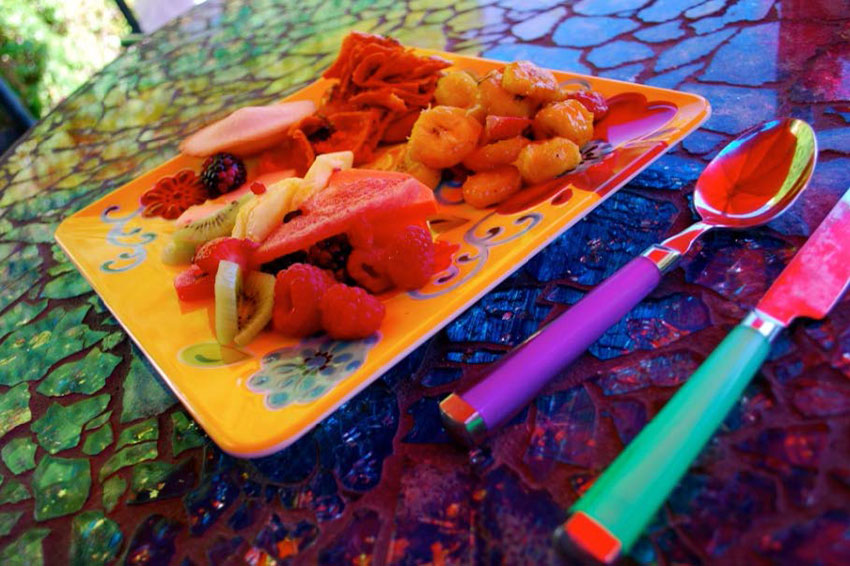 Trip insurance is strongly advised.

Travel Insurance 101: How to Protect Your Vacation
This "plain language" tutorial will explain travel insurance so you can
easily find the right plan.
$500.00 Deposit to hold your spot is expected.
For Registration and Information about accommodations contact:
Sam @