January 14-20, 2018
Arrive Sunday, Workshop Monday-Friday, Depart Saturday
Bonnie Fitzgerald
ARCHITECTURAL INSTALLATIONS, EXTERIOR MOSAICS & COMMUNITY PROJECTS
This is Bonnie Fitzgerald and Maverick Mosaics' 6th trip to the Hacienda.
We're honored and very excited to be invited back to teach at the
amazing educational environment that is Hacienda Mosaico.
THE PRIMARY FOCUS OF THIS WORKSHOP IS EXTERIOR AND LARGE-SCALE MOSAICS AND INSTALLATIONS. For new students this is the perfect opportunity to learn all about large-scale mosaic work, installations and community mosaic projects. That being said, all students are welcome to CREATE THEIR OWN WORKSHOP and work on personal projects of any scale. Instructor will work with students one-on-one IN ADVANCE to ensure you arrive at the Hacienda with appropriate materials if you wish to work on a personal project.

Our workshop will guide you through the process of designing, fabricating and installing large-scale permanent mosaics for EXTERIOR or interior architectural settings. Each student will create several "studies" using various indirect mosaic techniques and a wide variety of materials. These exercise studies are invaluable, offering students' time to explore materials and techniques that work best for projects they have in mind.

Students are welcome to take their studies projects home for future reference. Additionally, you will gain experience in collaborative design, fabrication, and installation as a group by creating an architectural mosaic as a gift to the Hacienda.
ALL SKILL LEVELS ARE WELCOME. MOSAIC EXPERIENCE HELPFUL BUT NOT NECESSARY.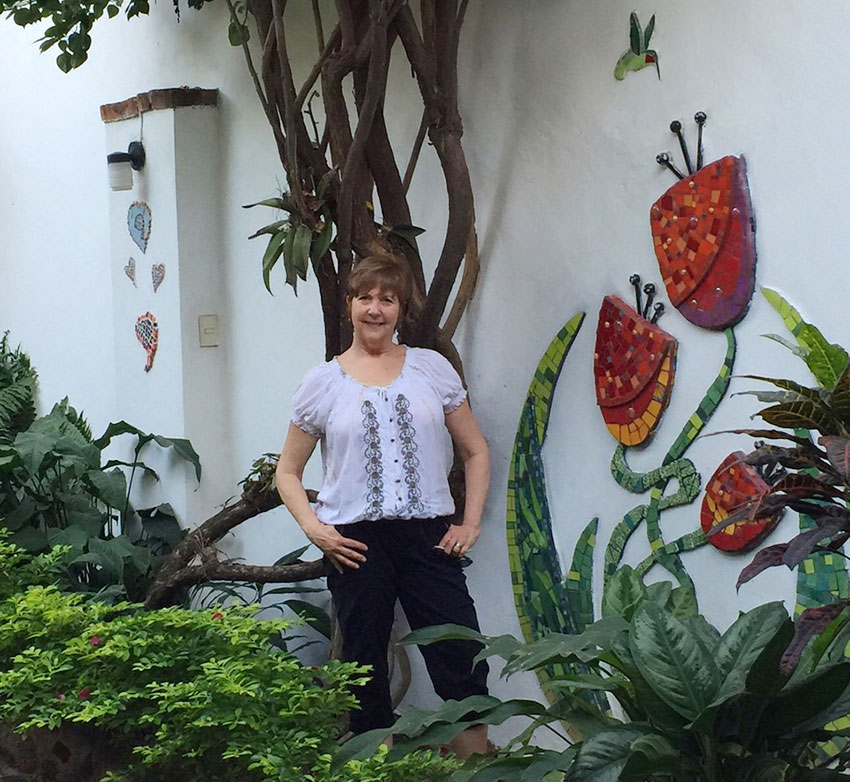 If you wish to create a personal mosaic to take home you must submit a design concept to instructor in advance so materials can be sourced. Students are responsible for bringing their materials and the appropriate hand tools to cut their selected tesserae (mosaic pieces.) Workshop includes a host of valuable hand-out materials and resource information.

A comprehensive presentation and lecture will cover creative and technical approaches best suited for community work. When many hands are involved there is magic to the art created, but there are lots of important planning steps to be considered. We will review the process of budgeting and bidding jobs, and share ideas for developing projects, recruiting and managing volunteers, and ways to gain the support of your local community. Students interested in exploring techniques to create a community based project will participate in a series of exercises to help master the appropriate method for their future projects.

For our gift mural to the Hacienda we will create a mosaic work in mixed materials and install the piece on Hacienda property using thin-set mortar. Everyone will gain valuable experience by participating in this hands-on exercise. In 2016 we created "Three Amigos" which are installed poolside to serenade you during meals!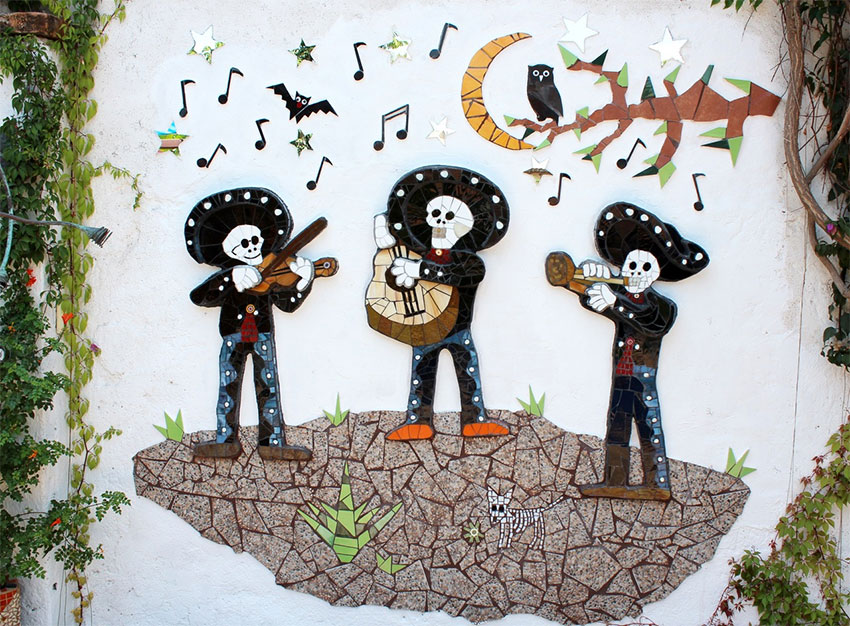 2018 Workshop Fee: $1,950

Workshop fee includes 5 days instruction, 6 nights of lodging, breakfast and lunch on workshop days.
Unlimited use of the studio 24/7. Instructor will provide appropriate adhesives and a wide variety of mosaic materials. Students are asked to contribute a small amount of materials for exercises and must bring their own mosaic hand tools.
A $500 deposit is required to reserve your spot.
Maverick Mosaics is accepting payment for this workshop, via credit card, bank wire or check.
Contact instructor for details.

Students are invited to a Hacienda hosted welcome reception on Sunday evening, January 15. During our week together there will be tons of learning and lots of free time to explore Puerto Vallarta, shop or relax. After dinner each evening we offer optional instructor supervised open studio.
Students depart Saturday, January 21.
Trip insurance is strongly advised.
Travel Insurance 101: How to Protect Your Vacation
This "plain language" tutorial will explain travel insurance so you can easily find the right plan.
ABOUT THE INSTRUCTOR

Bonnie Fitzgerald is an artist, educator and author. Bonnie teaches workshops throughout North America, including the Smithsonian Institution in Washington, DC, and leads study tours to destinations in Europe. She is the author of "Guide to Mosaic Techniques"(2015) and "300+ Mosaic Tips, Techniques, Templates and Trade Secrets" (2012), which have been translated into 5 languages.

2017 Mosaic Arts International Exhibition Bonnie was awarded Juror's Choice Award, Site-specific for her Palmer Park Community Center Public Art Installation.

To learn more visit

maverickmosaics.com

and

bonniefitzgeraldart.com

As a past Executive Board Member of the Society of American Mosaic Artists (SAMA), Bonnie has long been instrumental in raising awareness of mosaic as an art form throughout the United States.
Summary:
2018 Workshop Fee: $1,950 (based on double occupancy)
Lodging: 6 nights & 7 days
Mosaic Art Instruction: 5 days
Unlimited Open Studio: 24/7
Meals Included by the Hacienda's Personal chef: Sunday evening welcome reception, 5 full breakfasts & 5 lunches served poolside in a tropical setting and a Saturday departure brunch.
Students are responsible to bring their own tools and supplies for their personal project.
Materials list & instructions on packing will be sent after registration.

To "see" the Hacienda experience have a look at our video from our 2013 trip.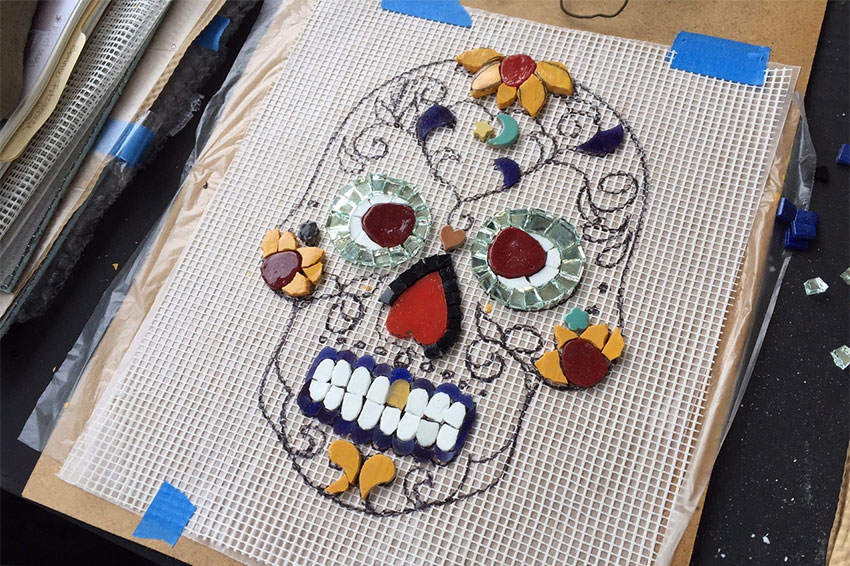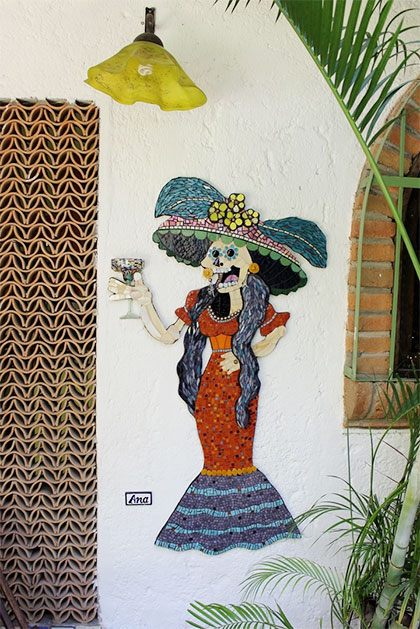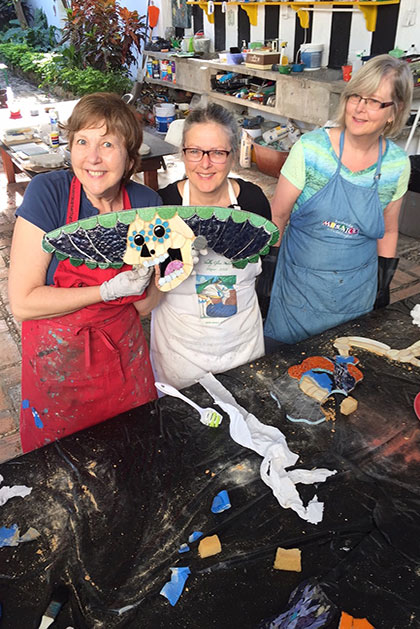 For information and reservations
contact Sam @